Online reviews can impact your reputation and eventually your whole business. That's a fact. According to research, a massive 92% of consumers can change their purchase decision after reading a negative review online. They do this even if the business in question was referred by a family or friend. Online reviews are that powerful.
But reviews aren't always bad. In fact, they can spur new life into your business and even boost your bottom line. What impact they make – whether positive or negative – will depend on what actions you take today. See what we mean through our short video on online Reputation Marketing.
The truth is, whether negative reviews about you online are true or not, consumers are bound to read and believe them. Various research and marketing firms have already conducted studies on this topic and their findings are similar. BrightLocal says 94% of Americans online use reviews to decide whether to purchase a product or not. Some 89% trust online reviews as much as personal recommendations.
Consumers have long counted on recommendations as well as suggestions from others prior to making buying choices, and beacuse Americans today have access to a large library of customer reviews and rankings from which to read prior to deciding if product and/or services are worth their time or money. Many different surveys find that a significant majority of the public currently include these consumer scores as well as there evaluations into their decision-making processes when acquiring something new: Totally 82% of U.S. grownups claim they refer to and read these reviews at minimum online, customer ratings or evaluations before purchasing anything for the first time, including 40% that say they always or nearly always constantly do so.
Why do very few consumers in America leave reviews? They are NOT Asked to!
Reading online reviews and recomendations prevails across vast array of age group, but those under 50 are particularly most likely to routinely include them into their buying experiences. A little more than fifty percent (53%) of 18- to 29-year-olds and also 47% of 30- to 49-year-olds say they always or often check out online evaluations when getting something for the initial time. Older adults, ages 50-64 (34%) and 65 and older (23%) continually engage in this type of buying behavior.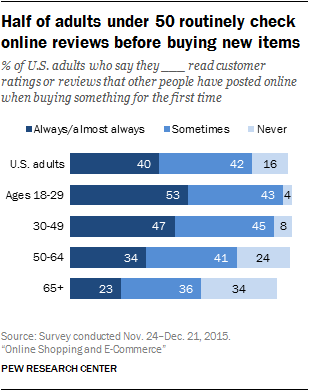 Additionaly to enhance reading reviews online, many Americans view on-line video clips to aid them with purchasing decisions: 55% of U.S. adult population say they have actually reviewed, review videos online. Product review videos are also becoming a lot more common amongst those under 50 compared to those over 50 (68% vs. 41%), with males as compared to women (62% vs. 50%), to regularly watch online reviews.
Along with specialized online evaluation websites, social networks systems now offer an opportunity for consumers to share their thoughts and experiences about the product or services they utilize. As well as many surveys report that 39% of U.S. adults state they have shared their experiences or sensations regarding businesses or products on social media sites websites like Facebook or Twitter. Some 55% of 18- to 29-year-olds have also engaged, as have half (50%) of those ages 30 to 49.
Those that have actually shared their client experiences on social media sites report doing so for a mix of both favorable and unfavorable factors. Among those that have actually talked regarding their experiences with a company or product on social networks, 86% suggest that they have actually done so after a great experience, while 77% say that they have done so complying with a disappointment.